Beach Vacation On The Horizon? Clean Up Those Feet!
Have you booked up to get some winter sun? If so then we certainly do not blame you, what better way to enjoy some time in the sunshine whilst the rest of us are wrapped up in freezing conditions! Ahead of your beach holiday you will no doubt be looking at what swimming costumes you have to wear, what you'll pack in your suitcase and of course you'll make sure that your hair is done, nails are painted and fake tan applied, but what about those feet? For me foot care is one of those things that I just don't think about until I am on the beach, drink in hand and only then do I catch a glimpse of my poorly cared for feet. To avoid this, here is what you need to do to get those feet cleaned up ahead of your vacation.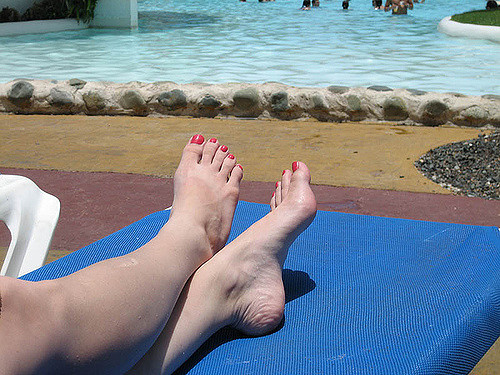 The Easy Way
If you have the time and money then the easiest course of action here will be to simply go and see a foot care specialist who will be able to give you some treatments that will leave your feet looking beautiful. Most general foot clinics will be able to transform your feet in a  day but if you have a little bit more to fix then you should be looking for a specialized foot clinic in order to get the best results.
DIY
If your feet just need a quick bit of TLC there is absolutely no reason why you cannot do this at home, with some great products from the grocery store or your local pharmacy. To help you get the smooth looking feet that you are looking for, here are the steps which you should take to make them look beautiful again.
Start by giving your feet a deep clean using an exfoliator, this should help to remove the first layer of tough skin.
Towel dry the feet and wait until they are completely dry before applying any products or using any equipment.
Once your feet are dry, begin softly scrubbing the feet using a pommel stone, this should leave your feet with almost no dry skin at all.
Exfoliate with a moisturizing exfoliator and leave for 30 mins.
Wash the exfoliator off and leave your feet to dry, before applying a soft and high PH moisturizer.
Repeat these steps once per week in the run up to your vacation, to ensure that you get the results that you are after.
Decoration
Now that you are proud of your feet soft and smooth feet, why not think about adding some flair by painting your nails and perhaps adding a toe ring or an ankle bracelet which will really make those feet stand out whilst you are walking across the beach?
Investing the time now will ensure that you don't have that moment on the beach when you realize that you forgot about your feet, get organized and make sure that your feet are looking fab when you're away.