Tips for a Cool At-Home Date Night with Your Man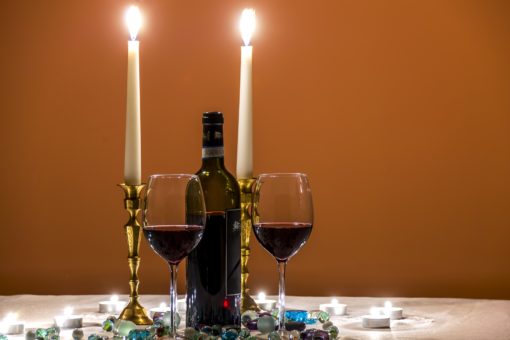 It takes a little bit of effort to organize you and your man a cool at-home date night. In fact, the ideas that you're about to read are pretty much super-easy to be put into action. All you need is a half an hour to figure out which one will suit you two best. You know that you both deserve a night where the two of you could spend some quality time together without spending too much of your energy. Sounds intriguing?
In this world where there are so many fun things you two could do, there's no need of even thinking about clichés like 'watch a movie together' or 'play cards and chat' or blah-blah. No, you need to find something that you would both enjoy doing, which is, you know, hipster-y. So the following ideas are amongst the coolest things you two can do to spend an awesome time together.
Get Crafty Together
Now that's something which is both useful and fun. If you're all into the DIY stuff, this is the perfect stuff to do. Think about an easy task so that you don't get too tired at the end of the night. For instance, paint that old chair you two have left in the basement.
Revitalized old stuff is actually pretty trendy right now, so this little project of yours can actually turn to a very useful accessory for your living-room.
Try out Making a Complicated New Recipe You've Never Tried Before
The more complicated the recipe, the better. That way you will both have your hands full. You've probably had it enough of the usual, repetitive meals you have every single day. Spicing things up in the kitchen can actually turn out to be a successful date night.
Experiment with new cuisines, new spices, new ingredients and combos you've never tasted before. You'll either find them to be delicious or disgusting, but hey, you will have fun both ways.
Get Super Competitive Online
Did you know that one of the fastest-growing industries today is the online gambling one? As it turns out, online gambling is super cool, too. So, both of you go to an online casino, make your accounts and each of you deposit $10. Check this site for some highly engaging slot games, or just explore any other scratch card games, bingo or table casino games, it's up to you.
Decide on the game you both want to play and start playing. The one who scores less than the other should do the laundry the next day, or pour some more wine, or clean the kitchen. The higher the stakes, the more fun the competition.
Learn How to Make Your Signature Family Cocktail
How cool it would be to be able to share your own family cocktail recipe with your kids when they grow up, then with your grandkids and so on? So cool, right? But you have to have the recipe first, no? Grab all the alcoholic drinks you have around your house and start making your own family cocktail. Remember to write down the ingredients for each one so you could pass the perfect recipe on, but mostly because trying out different cocktails can get you two wasted.